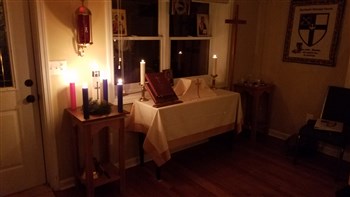 Christ the Redeemer Charismatic Episcopal Church is a parish of the ICCEC, the International Communion of the Charismatic Episcopal Church, founded to serve Canton, Woodstock and Cherokee County, GA. We are part of the Mid-South Diocese of the ICCEC, led by The Most Reverend Bishop David Epps. You can find links to the various ICCEC sites under our Resources Menu Option. The ICCEC has parishes around the world.

We are men and women of faith gathered from diverse backgrounds, seeking an expression of the church that is fully sacramental-liturgical, evangelical and charismatic. We are a church that is submitted to the authority of scripture, as interpreted by the continuing witness of the ancient church, and governed by consensus. Our worship is biblical, liturgical and Spirit filled, ancient and contemporary, holy and joyful. We are committed to advancing God's kingdom by proclaiming the Gospel to the least, the lost, and the lonely. When you attend one of our services, you may hear a traditional, scripture-based sermon, contemporary Christian music alongside the structure of the liturgy. We believe this to be a blend of the three expressions - sacramental, evangelical and charismatic. It may bring to mind other denominations in a unique single expression. We hope you'll find it as worship.

The International Communion of the Charismatic Episcopal Church is not, and has never been, affiliated with the Episcopal Church USA or the Anglican Communion.